Crocodiles used by Russian church in bid to attract more youngsters to prayer
Comments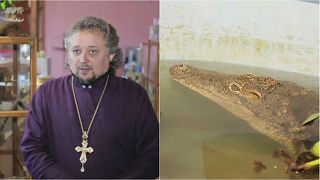 A church in Russia has hit on a bizarre way of trying to attract more youngsters to prayer: crocodiles!
They are part of a tiny zoo built in the religious building's basement in Lomonosov near St Petersburg.
There are three crocodiles and other exotic animals there to add a new dimension to Sunday service.
"The purpose (of organising the zoo) was creating conditions for children to be interested in coming to the church," said priest Oleg Yemelianenko.
While it's an odd idea, the church is only filling a gap in the market.
"(It was) interesting as we don't have a local zoo (in Lomonosov)," said visitor Olga Koltsova. "Here are a lot of visitors with kids."
Yemelianenko founded the zoo to teach his children a love of nature and it's steadily grown over the last decade.
Now the facility is going to be enlarged, which will see better living conditions for the animals and crocodiles.