SPORTELMonaco 2018: French National coach Didier Deschamps receives the ''sport legend'' award
Comments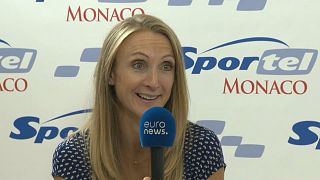 Once again this year, SPORTELMonaco has proved to be an unmissable event for professionals from the sports industry and the media, and has exceeded its targets, with more than 200 new companies taking part. 
Euronews had the chance to speak with sports legend Paula Radcliffe. The English marathon athlete talks about Eliud Kipchoge and his recent world record in the men's marathon in Berlin.
''I think there are several men that have been chipping away at that 02:02:57 to 02:03:00 but he just put it down to 02:01:39 and that's a huge jump forward. I'm not sure that there's many men around who are capable of running faster than 02:02:00 today, that's phenomenal running. I think it might be a little while that that record stands,'' Paula Radcliffe said in an interview with Euronews.
The SPORTEL Awards evening was held on Tuesday 23 October at the Grimaldi Forum, and rewarded the best sports videos and the best sport book of the year.
French National coach Didier Deschamps, received the ''sport legend'' award of this edition. Prince Albert II of Monaco gave him the well-deserved award. 
Sportel will be back next year with its 30th edition.