Sloth bear cubs: can a Singapore zoo secure their survival?
Comments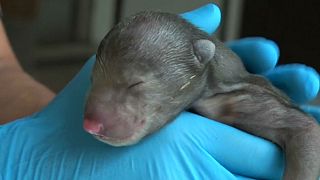 -
A Singapore zoo is attempting to secure the survival of two baby sloth bear cubs, having to separate them from their mother.
Sloth bears are listed as a 'vulnerable' species by the International Union for Conservation of Nature, as they have a history of abandoning or killing their cubs, according to a vet on the team who was interviewed by local media.
The twins, born in mid-September, are being cared for by zoo staff and are being fed formula milk. In an effort to bring them maternal comfort, they were also given a soft stuffed bear to cuddle in their incubator.