Turkish investigators find abandoned Saudi consulate car in Istanbul
Comments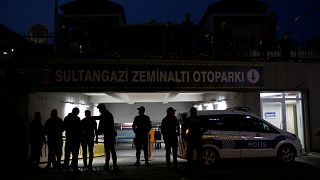 -
Copyright

REUTERS/Huseyin Aldemir
An abandoned diplomatic vehicle belonging to the Saudi consulate in Istanbul has been found by Turkish authorities investigating the killing of dissident journalist Jamal Khashoggi.
The vehicle is a black Mercedes sedan that matches one seen in security camera footage outside the consulate building around the time that Khashoggi was murdered. Turkish authorities have sealed off a parking garage in the city's Sultangazi district where the car was found.
Turkish news channels also showed alleged CCTV footage in which a second car with diplomatic plates visited the garage. The footage shows a passenger getting out to transfer a bag from one vehicle to another, before leaving within 12 minutes.
The vehicle has become the latest focal point in the weeks-long investigation into Khashoggi's death. The Saudi Arabian government denied any knowledge of the journalist's fate for weeks, before admitting on Friday that he perished in a so-called "fistfight" moments after entering the consulate on October 2. Saudi Foreign Minister Adel al-Jubeir then appeared on American television to admit that Khashoggi was murdered, but denied that officials in Riyadh had ordered the killing.
In an interview with Fox News on Sunday, Jubeir described Khashoggi's killing as a "rogue operation" and said Saudi Arabia wanted to make sure "those who are responsible are punished." He also described Khashoggi's "murder" as a "tremendous mistake."