Crown prince was unaware of Khashoggi's death, Saudi official says
Comments
By Daniella Silva with NBC News World News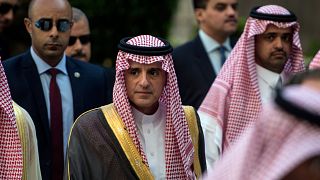 -
Saudi Arabia's foreign minister on Sunday called the killing of journalist Jamal Khashoggi at a consulate in Istanbul "a rogue operation" and denied that the kingdom's crown prince or intelligence service had any prior knowledge of the operation.
"This was an operation that was a rogue operation," Adel al-Jubeir told Fox News on Sunday. "This was an operation where individuals ended up exceeding the authorities and responsibilities they had."
Jubeir said neither the Crown Prince Mohammed bin Salman nor "the senior leadership of our intelligence service" was aware of what had happened to Khashoggi.
"There obviously was a tremendous mistake made, and what compounded the mistake was the attempt to try to cover up," he said, adding, "That is unacceptable in any government."
The foreign minister said Saudi Arabia wanted to make sure "those who are responsible are punished, and we want to make sure that we have procedures in place that prevent it from happening again."
Jubeir also said they do not know the details of how Khashoggi was killed or where his body is.
He added that their investigating team in Turkey found evidence contradicting earlier reports that Khashoggi left the consulate after his Oct. 2 visit.
According to the minister, the prosecutor determined "that the reports that were originally filed were wrong, and that there was something that happened that was criminal."
News
The remarks came after Turkish President Tayyip Erdogan said Sunday that he will reveal more about the investigation into Khashoggi's killing on Tuesday.
Saudi Arabia finally acknowledged on Friday that Khashoggi had been killed at the consulate, although the explanation that the journalist was involved in a "quarrel and fighting by hand" that led to his death has been met with international skepticism.
On Saturday evening, President Donald Trump offered sharper criticism of Saudi Arabia's explanation of the death of journalist Jamal Khashoggi, telling the Washington Post"obviously there's been deception, and there's been lies."
But he continued to defend the nation as an "incredible ally" and allowed for the possibility that Khashoggi's death was not directly ordered by Saudi Crown Prince Mohammed bin Salman.
Trump ally Lindsey Graham said on Fox News that he did not think the Saudi's explanation was "credible at all."
"It's ridiculous to believe 18 people would go to Turkey to kill Mr. Khashoggi and nobody in the government know about it," he said.