Zaha fitness to be assessed ahead of Everton clash
Comments
By Reuters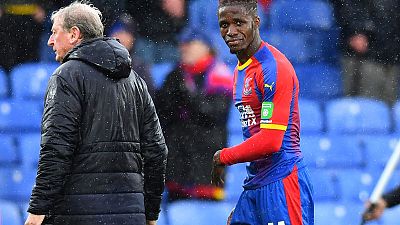 -
(Reuters) – Crystal Palace winger Wilfried Zaha will be assessed before Sunday's Premier League clash at Everton after sustaining a muscle strain on international duty last week, manager Roy Hodgson said on Friday.
Zaha, who played in Ivory Coast's 4-0 win against Central African Republic last Friday, returned to the club earlier than expected and is yet to resume full training.
"It's good news that he's close enough to be assessed, to see if he is fit enough to play. If he is able to train tomorrow I guess he could be available to play," Hodgson told reporters.
British media reports had said that Zaha, who is Palace's top scorer this season with three of their meagre tally of five league goals, could be out for up to two months.
"You're taking me into areas of sport science I don't feel comfortable talking about… I don't know where the information that this is a two-month injury came from, but we've never been mindful that it would take such a long time," ," Hodgson said.
"It's a strain which players get on a fairly regular basis and some recover quicker than others. Wilf is a quicker than normal recoverer but it'll depend on the extent of the injury whether he is a possibility to recover or not."
Palace are 14th in the table with seven points from eight matches while Everton are three places above them.
(Reporting by Shrivathsa Sridhar in Bengaluru; Editing by Keith Weir)