Europe briefing: 5 stories to know about today
Comments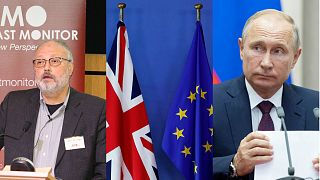 1) Twitter suspends network of bots propagating pro-Saudi Arabia messages
Twitter suspended a network of suspected Twitter bots on Thursday that propagated pro-Saudi Arabia messages about the disappearance of journalist Jamal Khashoggi in the past week, NBC News revealed. An NBC investigation presented the tech company with a spreadsheet of hundreds of accounts that posted the same pro-Saudi government tweets at the same time. One of the hashtags used by the tweets became the top worldwide Twitter trend on Sunday, the hashtag roughly translates to "#We_all_trust_Mohammad_Bin_Salman," the Saudi crown prince.
2) UN Syria envoy Staffan De Mistura to step down
After four years in the role, Staffan De Mistura announced he would quit his post at a Security Council meeting earlier this week. De Mistura said his resignation was for "purely personal reasons" and would leave the last week of November. He added he would make a "major push" to try to lay the groundwork for a new constitution in Syria before leaving.
3) Viral image of Ryanair crew sleeping on airport floor revealed to be staged
An image of a Ryanair crew sleeping on the floor of Malaga's airport, which went viral, was staged, it has been revealed. The image was released by a union to denounce the fact that the company did not offer accommodation to staff members after flight cancellations. They said the picture was a "visual dramatisation" but insisted crews are left in "deplorable conditions" when flights are cancelled. The airline did say that because of bad weather in Portugal a number of flights had to be diverted to Malaga and since it was national holiday in Spain, the hotels were full.
4) European-Japanese mission starts journey to Mercury on Saturday
European-Japanese mission of BepiColombo will start a 7-year journey to Mercury on Saturday. Two spacecraft built in Europe and Japan will survey the planet's geology, evolution and magnetic field. The BepiColombo probe is to hitch a ride on the back of an Ariane 5 rocket departing from Kourou, French Guinea. By the time it reaches its science orbit in 2026, the probe will have travelled nine billion kilometres and completed nine planetary fly-bys past Earth, Venus and Mercury.
5) Erdogan will host a Syria summit with Macron, Merkel, Putin in Istanbul on October 27
The leaders of Turkey, Russia, Germany and France are to hold a four-way summit on the conflict in Syria in Istanbul on October 27, said the spokesman for President Recep Tayyip Erdogan on Friday.
Ibrahim Kalin said the latest developments in Syria's rebel-held Idlib province and the political process for the resolution of the conflict will be discussed at the summit and that the sides would aim to coordinate joint efforts, according to the state-run Anadolu news agency.
The French presidency said that the meeting is aimed at identifying ways of avoiding a humanitarian catastrophe in the country's Idlib region.
This is how we covered key developments this morning: