Watch: Sea turtles released off coast of North Carolina
Comments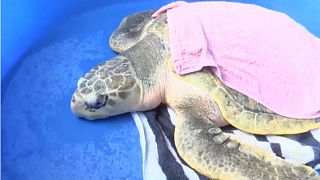 Thirteen sea turtles were released off the coast of North Carolina on Tuesday after being rescued and treated for injuries.
Many of the reptiles had spent months being treated at the Sea Turtle Hospital on Topsail Island before returning to the sea on Tuesday.
The turtles were originally scheduled to be released last month, but the plans had to be postponed when Hurricane Florence made landfall.
"It's kind of a bittersweet day in that we're releasing them, we're glad that they're going, but we are certainly gonna miss them," said volunteer Joe Heidel.
Threats against sea turtles include habitat destruction, pollution and accidental capture in fishing gear. They also suffer from poaching for their eggs, meat, skin and shells.