Watch: Kenyan artist creates paintings for visually impaired
Comments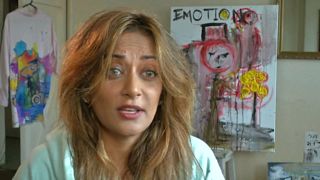 An artist in Kenya is creating paintings for the visually impaired by incorporating Braille into her work, in hopes of helping blind people to experience art.
Tina Benawra, who works out of a studio in Nairobi, uses text and layers of paint to create a textured canvas.
The Braille is used to describe, either directly or indirectly, the specific characteristics of the painting.
"I had to really focus on learning Braille," Benawra told Reuters.
"This is an important aspect when you are going to work with visually impaired and blind people, that you get their language accurate because, if they can go to a world with accuracy and open mindedness, we should also be able to dictate that towards ourselves internally."
Proceeds from Benawra's art go towards creating a recreation centre for people with disabilities.