U.N. Syria envoy Staffan de Mistura to step down at end of November
Comments
By Reuters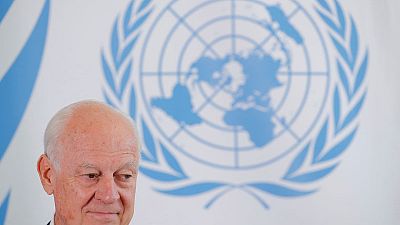 -
By Michelle Nichols
UNITEDNATIONS (Reuters) – United Nations Syria envoy Staffan de Mistura said on Wednesday that he would step down at the end of November for personal reasons, but would use his final month to push for the formation of a committee to rewrite the Syrian constitution.
De Mistura, who has been in the job for more than four years, told the Security Council that Secretary-General Antonio Guterres had instructed him to "verify once and for all" whether a credible, balanced constitutional committee could be convened.
De Mistura is the longest serving of three U.N. mediators for the more-than-seven-year Syrian conflict. His predecessors – former U.N. Secretary-General Kofi Annan and veteran Algerian diplomat Lakhdar Brahimi – both quit in frustration over a global deadlock on how to end the war.
Diplomats said possible replacements for de Mistura included U.N. Iraq envoy Jan Kubis, former Algerian foreign minister Ramtane Lamamra, U.N. Middle East envoy Nickolay Mladenov and Norway's Ambassador to China Geir Pedersen.
Participants at a Syrian peace conference in Russia in January had agreed to form a constitutional committee that will be made up of 150 people, with a third chosen by the government, a third by opposition groups and a third by the United Nations.
De Mistura said creation of the panel had been delayed as "questions continue to be raised, mainly by the Syrian government, over the composition" of the U.N. list. He said he would visit Damascus next week and hoped to win government approval for a "credible and inclusive third list."
"If there is a political will, there is no reason for the constitutional committee not to be convened in November," he told the 15-member council, which has long been deadlocked over the war, with Western powers pitted against Syrian ally Russia.
French U.N. Ambassador Francois Delattre accused the Syrian government of obstruction, "which ultimately shows us that it does not want to participate in the diplomatic efforts underway, while its allies are either unable or unwilling to convince it to put an end to its intransigence."
Russian U.N. Ambassador Vassily Nebenzia said Moscow wanted the constitutional committee to be formed as soon as possible but that "setting artificial deadlines in this case would be counterproductive."
"In order for the process to be trustworthy, then there has to be the agreement of all parties and that takes time. So we need to be patient," Nebenzia said.
Syrian U.N. Ambassador Bashar Ja'afari said the Syrian government was committed to forming a constitutional panel.
(Reporting by Michelle Nichols; Writing by Lisa Lambert; Editing by Bernadette Baum and Susan Thomas)