Raw Politics: French left leader Jean-Luc Mélenchon reacts angrily to police raids
Comments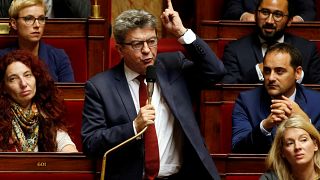 France's far left leader Jean-Luc Melenchon has come under scrutiny after prosecutors opened an investigation into his alleged intimidation of investigators.
It comes after the former presidential candidate was caught on camera on Monday shouting at an anti-corruption officer, who was part of a team who raided his home and party headquarters.
The 67-year-old pointed his finger in the officer's face and screamed: "Get out of my way and let me open the door. I am the republic, it's me who's the member of parliament."
The raids took place at the offices of his party, La France Insoumise (France Unbowed), in central Paris, which is also his private residence.
After the incident, Melenchon called the raids an "enormous operation by politicised police".
A source close to the raids told Reuters they were being carried out by a specialist anti-corruption unit that focuses on financial and tax irregularities.
Three investigations into Melenchon are now underway. One is looking into the alleged misuse of European Parliament funds to pay party employees in France, the second is examining the funding of Melenchon's presidential campaign last year, and the latest is investigating his alleged intimidation of investigators.