Alcoa to close two Spanish aluminium plants, cut jobs
Comments
By Reuters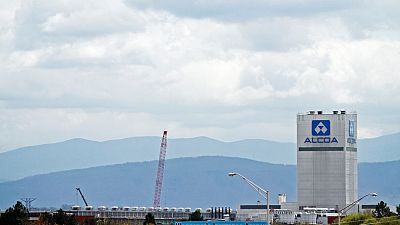 -
By Robert Hetz
MADRID (Reuters) – Alcoa said on Wednesday it would close two of its three aluminium plants in Spain with a combined annual production of 180,000 metric tonnes, resulting in the lay off of almost 700 workers.
The U.S. company said it was starting a consultation process with workers' representatives and was committed to negotiating a social plan with unions.
Negotiations begin on Oct. 31 and will last a maximum of 30 days, a spokesman for the workers' union told Reuters. The closure plans would affect as many as 3,000 workers if indirect employment was taken into account, he said.
The Aviles and La Coruna plants were two of the least productive due to intrinsic structural problems such as inefficient technology and high fixed costs, Alcoa said in a statement.
"Those problems, together with external market factors such as overproduction in China, high raw material prices and energy costs, have generated significant losses in these two plants in the last two years," the company said.
The Spanish industry ministry on Wednesday called on Alcoa for more information on the closures which it said were due to a lack of investment and structural problems since 2014 and has requested the company find a way to continue with production.
"The government is surprised and worried that, during contacts over the last three months, the company had never reported that it would take this decision," the ministry said in a statement.
The benchmark aluminium price <CMAL3> on the London Metal Exchange erased losses after the news about the closure and was up 0.2 percent at $2,037.50 a tonne by 1240 GMT.
(Additional reporting by Paul Day; Editing by Sonya Dowsett and Emelia Sithole-Matarise)