Who wants a piece of moon? 5-kilo lunar meteorite 'The Moon Puzzle' up for auction
Comments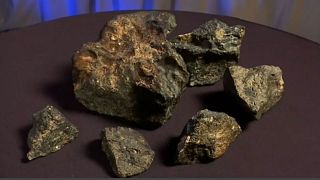 A large lunar meteorite known as "The Moon Puzzle" is being put up for sale by a Boston-based auction house, with an estimated price tag of $500,000 (€431,500).
The rare meteorite, which was discovered in northwest Africa, has been dubbed the largest chunk of moon rock ever put up for auction.
It comes in six pieces that fit together, weighing a total of 5 kilogrammes.
RR Auction described the item as a "highly important, world-class example of a lunar meteorite".
"This was blasted off the surface of our moon in the distant past, likely by the impact of a different meteorite, then journeyed the quarter-million miles to Earth and — against all odds — survived a fiery descent through our atmosphere to be found in the wilds of the deserts of Northwest Africa in 2017," the auction house said in an online description of the item.