Raisman questions USA Gymnastics' interim president pick
Comments
By Reuters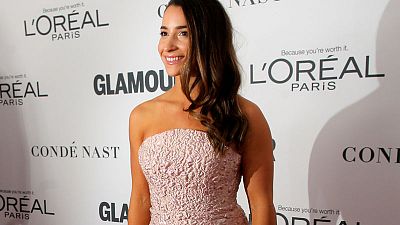 -
By Frank Pingue
(Reuters) – Three-time Olympic gold medallist Aly Raisman on Monday spoke out against USA Gymnastics' choice for its interim president and chief executive, saying survivors of sexual abuse "deserve better."
The criticism from Raisman, one of the athletes sexually abused by former USA Gymnastics team doctor Larry Nassar, comes three days after the sport's governing body in the United States named Mary Bono as its interim leader.
Raisman, in a series of posts on Twitter, took aim at former Republican congresswoman Bono over her previous employment at a law firm that worked for USA Gymnastics when sex abuse allegations against Nassar were being reported.
Nassar received a prison sentence of up to 175 years after pleading guilty to criminal sexual conduct.
"My teammates & I reported Nassar's abuse to USAG in 2015," Raisman wrote.
"We now know USOC & lawyers at Faegre Baker Daniels (Mary Bono's firm) were also told then, yet Nassar continued to abuse children for 13 months!? Why hire someone associated with the firm that helped cover up our abuse?
"Clearly this is not a "new" USAG. Same corrupt decisions. Perhaps it's because true accountability is less likely if authority is placed in the hands of someone similarly motivated to avoid it.
"Survivors, current gymnasts, families, coaches, gymnastics community & fans deserve better."
Bono will fill the role while USA Gymnastics searches for a permanent successor to Kerry Perry, who took over last November after predecessor Steve Penny resigned following a review into how USA Gymnastics handled allegations of sexual abuse.
When asked by Reuters to comment on the criticism surrounding the choice for interim president, USA Gymnastics Board of Directors said Bono's work was not related to any investigation.
"Mary Bono worked at Faegre Baker Daniels Consulting, the legislative strategies and policies branch in Washington, DC.," the board said in a statement.
"Faegre Baker Daniels is a large, global firm that has a number of divisions and areas, and Mary was not involved in FBD's work with USA Gymnastics as counsel of record."
Bono also faced criticism over the weekend after it emerged she had posted a photo on Twitter of someone using a black marker pen to colour over the Nike logo on a pair of shoes.
The photo, posted last month, was an apparent reference to Nike's advertising campaign featuring former NFL quarterback Colin Kaepernick, who sparked a national controversy by kneeling during the national anthem.
Nike-sponsored gymnast Simone Biles, another victim of Nassar, was stunned by Bono's post.
"mouth drop," she wrote on Twitter on Saturday. "don't worry, it's not like we needed a smarter usa gymnastics president or any sponsors or anything."
Bono has since deleted the photo and apologised.
"I deeply regret posting the tweet because I respect everyone's views and their fundamental right to express them," Bono in a statement on Saturday.
"This in no way reflects how I will approach my position at USA Gymnastics. I will do everything I can to help change the culture and to work with the entire community to build an open, safe and positive environment."
(Reporting by Frank Pingue in Toronto; Editing by Peter Rutherford)