Irish Foreign Minister says Brexit backstop is essential 'insurance': Exclusive
Comments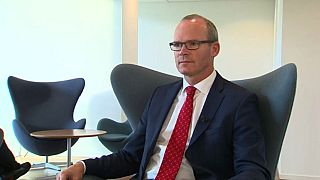 As EU leaders gear up to meet in Brussels on Wednesday, the Irish border is being hailed as the key impasse to negotiations. Although the meeting was intended to be the deadline for which a Brexit deal would be reached, it is suspected that the timetable will shift. Euronews correspondent Shona Murray sat down for an exclusive interview with Irish Foreign Minister, Simon Coveney, ahead of the crucial summit.
The Irish border question is arguably the most contentious element of Brexit negotiations despite featuring little in debates running up to the referendum. In the months past, it has become increasingly apparent that the border was significantly overlooked, with UK Prime Minister Theresa May pleading with the EU not to allow the issue to "derail" negotiations.
Coveney stated that the Irish government trusts "the Barnier task force to negotiate a deal that's fair" but also "consistent with the commitments that the UK have already made," referring to the so-called 'backstop' agreement. 
"It was quite precise what that was," he said, referring to the agreement made in December that would see Northern Ireland remain in "full alignment with the rules of the Customs Union and Single Market" in a no-deal scenario. The backstop acts as an "insurance mechanism" to "protect north-south cooperation on the island of Ireland, the all-island economy, and to protect the peace process".
"We expect the British Prime Minister to follow through on her commitments," Coveney reiterated. May has come under fire for the backstop, with her Chequers proposal seen as weak by Brexiteers and wholly unsatisfactory by the Democratic Unionist Party (DUP), the Northern Irish party that props up May's minority government. Arlene Foster, leader of the DUP, threatened to vote down May's budget proposal on October 29 if she fails to reach an agreement which safeguards Northern Ireland's union with Britain.
With the Brussels summit fast approaching, Coveney said that he is "not sure that there will be a lot of detail on the table."
"I don't expect detailed proposals in front of leaders this week," he said while adding that "the negotiators need more time".