Despair turns to optimism as Mancini's Italy take shape
Comments
By Reuters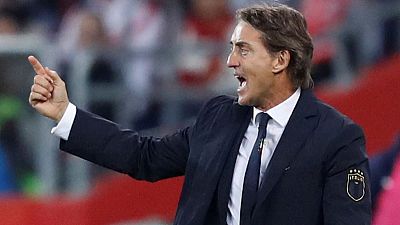 -
MILAN (Reuters) – The despair which followed Italy's defeat by Portugal a month ago has suddenly turned to unbridled optimism following Sunday's 1-0 stoppage-time win away to Poland in the Nations League.
Italian media agreed the performance was one of the best in the last few years as Roberto Mancini's new-look side dominated the match in Chorzow and created chances almost at will.
It was very different to the mood after Italy were outplayed by Portugal, prompting Gazzetta dello Sport to publish the headline "Italy always going downwards".
On Monday, the same paper boomed: "This is Italy".
"Finally, Italy win and convince," it added.
A headline in Corriere dello Sport, meanwhile, simply read: "Bellissima."
Mancini was appointed with the job of rebuilding Italy following their failure to qualify for this year's World Cup, the first time they have missed the tournament in 60 years.
It was never going to be an easy task for the former Manchester City and Inter Milan coach.
Italy no longer produce world-class players in abundance and teams such Juventus, Napoli and AS Roma are dominated by foreigners, as Mancini pointed out last month.
But Mancini said there was still enough talent around to make Italy great again, even if it was going to take time.
It was a case, he said, of putting faith in younger and lesser-known players and having patience.
There were certainly some interesting choices in Sunday's line-up.
Left back Cristiano Biraghi, who scored the winning goal, was relegated with Pescara two seasons ago and was making his third appearance for Italy at the age of 26.
With Italy struggling to break the deadlock, Mancini chose to bring on Kevin Lasagna for his international debut at the age of 26 rather than Lazio's prolific marksman Ciro Immobile.
Lasagna, whose flick on at the near post set up the goal, has little more than two seasons of Serie A experience.
"Five years ago I was playing in Serie D (the fourth tier) and now, I'm making my debut for Italy," Lasagna said.
"I put Kevin and not Immobile because he's stronger in the air and we needed a few centimetres," said Mancini
Another surprise choice was Cagliari's 21-year-old midfielder Nicolo Barella who made his debut in last Wednesday's 1-1 home draw with Ukraine and excelled on Sunday.
Mancini sent the team out in a 4-3-3 formation with no recognised striker.
Marco Veratti and Jorginho took control of the midfield and the attacking trio of Federico Chiesa, Federico Bernardeschi and Lorenzo Insigne caused Poland many problems.
"I wanted a team that plays at home and away with the same mentality," Mancini said.
"We are starting a new chapter but, in football, you need time and there are no magicians. We have simply started working and getting to know the players."
(Reporting by Brian Homewood, editing by Ed Osmond)