Turks tell U.S. officials they have recordings of WashPo writer being killed, report says
Comments
By Rachel Elbaum and Associated Press and Josh Lederman with NBC News World News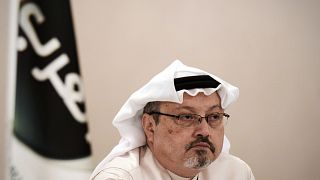 Copyright

Mohammed Al-Shaikh

-
Turkey's government has told U.S. officials it has audio and video recordings proving that missing Saudi Arabian writer Jamal Khashoggi was killed in the Saudi consulate in Istanbul, the Washington Post reported Friday.
The report quoted U.S. and Turkish officials and NBC News has not heard or seen the recordings.
Khashoggi, a Saudi citizen and critic of the government who wrote for The Washington Post, entered the consulate on Oct. 2, to obtain documents needed for his upcoming marriage to a Turkish citizen. Saudi Arabia has maintained that he left the consulate, but has not provided any proof.
The Washington Post report quoted unnamed sources who said that Khashoggi's voice and the voices of men speaking Arabic can be heard.
"You can hear how he was interrogated, tortured and then murdered," the person told the paper.
On Wednesday, three people familiar with the investigation told NBC News that Turkish officials had told the U.S. that Turkey had listening devices inside the Saudi consulate. That would give the Turks some insight into what transpired inside.
Earlier in the week, Turkish officials told NBC News that they believe Khashoggi was killed inside the building.
In a statement released late Saturday, the Saudi Consulate in Istanbul denied the reports, calling them "baseless allegations." The statement said a Saudi security delegation arrived in Istanbul on Saturday to help authorities investigate Khashoggi's disappearance.
President Donald Trump said he's talked to Saudi officials and is "demanding everything" to explain how Khashoggi has vanished.
On Thursday, Trump described U.S. relations with Saudi Arabia as "excellent", and said that he doesn't want to scuttle arms deals with Riyadh because they are worth tens of millions of dollars to the U.S. economy. He said the kingdom would simply buy the weapons from Russia or China instead.
"If it turns out to be as bad as it might be, there are certainly other ways of handling this situation," he said.
Trump has backed Crown Prince Mohammed bin Salman's ambitious campaign to modernize the conservative kingdom and its economy. Trump's son-in-law, Jared Kushner, who exchanges phone and text messages with the young crown prince, was instrumental in last year's deal to sell $110 billion in U.S. weapons to the kingdom.
The journalist's disappearance has prompted journalists and media organizations to pull out of a business conference in Saudi Arabia. The New York Times pulled its sponsorship of the event and will no longer be sending journalists. CNBC and CNN also said they will no longer be participating.
Meanwhile, The Harbour Group, a Washington lobbying firm that represents the Saudis, severed its contract on Thursday with the Saudi embassy the group's managing director, Rich Mintz, confirmed to NBC News. Harbour Group, which also lobbies for the United Arab Emirates, had worked for the Saudis in Washington for more than a year.