Ex-Interpol chief under investigation for suspected bribery
Comments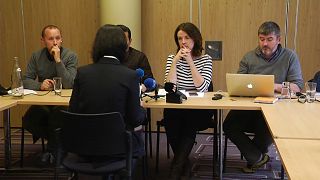 Former Interpol chief Meng Hongwei is under investigation for suspected bribery, China's Ministry of Public Security said in a statement on its website on Monday.
"The investigation against Meng Hongwei's taking and giving bribes and suspected violations of law is very timely, absolutely correct and rather wise," the ministry said in a statement following an internal meeting.
The wife of Interpol's president, who went missing in China, on Sunday asked the international community for help and thinks he's in danger after she received a message with a knife emoji from him before his disappearance.
Grace Meng's appearance at a press conference in Lyon, France, where Interpol's headquarters are based, came minutes before Beijing confirmed they had detained Meng Hongwei as part of a criminal probe.
Speaking Sunday, Meng said her husband sent her a text message asking her to "wait for my call" on September 25. Minutes later, he sent an image of a dagger — in Chinese symbolism, this means "I am in danger".
She told reporters this was the last contact she had with her husband.
China's highest anti-corruption agency, the National Supervisory Commission, on Sunday released a statement confirming Meng was being held on suspicion of violating state law.
No further information about his detention was released and the French interior ministry said they had received no word about an investigation involving Meng.
Hours later, Interpol released a statement saying they had received the chief's resignation and they would elect a new president at a meeting in Dubai in November.
Aside from having led the International Criminal Police Organization as president, Meng is also a Chinese politician and worked as an official for the Communist Party of China.
Grace Meng said he travelled to the country in September for work. "His job is very busy," she said. "We connected every day."
Fearing for her safety and that of her two children, Grace Meng hid her face from photographers during the press conference.