Afghanistan prepares for election amid fraud allegations, fear of Taliban
Comments
By Reuters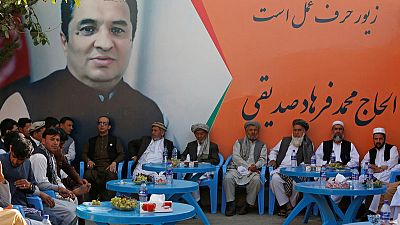 -
By James Mackenzie and Abdul Qadir Sediqi
KABUL (Reuters) – Najibullah, a 47 year-old shopkeeper in the main bazaar of Kabul's old city, is resisting the widespread pessimism and allegations of cheating that have hung over elections to Afghanistan's often-derided parliament this month.
The Oct. 20 vote, seen by international partners as a dry run for presidential elections next year, has been hampered by chaotic preparations, allegations of fraud and ever-present fears of militant violence.
But Najibullah, who like many Afghans goes by one name, said it would be a chance to clean up the institution, a hope shared by foreign donors desperate for signs of progress 17 years since the Taliban were ousted.
"Fortunately there are talented, eligible and educated new faces among the candidates that can restore the image of parliament," Najibullah said.
The government and Afghanistan's international partners are counting on optimists like Najibullah to ensure the success of a ballot that is already three years overdue.
After a slow start, almost 9 million voters and 2,500 candidates competing for places in the 249-seat lower house have been registered and campaigning began officially late last month. Kabul's concrete blast walls have been plastered with election posters for hundreds of parliamentary hopefuls as well as sitting MPs standing for re-election.
With Taliban insurgents controlling about one-third of the country, thousands being killed in the fighting and doubts about the success of the U.S. strategy to force the rebels to accept peace talks by stepping up air strikes, the credibility of the Western-backed government is at stake.
"We want to have timely and transparent elections. There is no secret about it," said European Union envoy Pierre Mayaudon. "Both on their own merits – to strengthen institutions – and with a view to the next one, the presidential election."
Despite some talk of a postponement, President Ashraf Ghani has repeatedly insisted the elections will be held on time and both the Independent Election Commission (IEC) and the government dismiss speculation of any delay.
"One hundred percent, the elections will take place on (Oct. 20)," said IEC spokesman Syed Hafizullah Hashimi.
Preparations, however, have been anything but smooth.
Election authorities originally planned to have 7,355 polling centres across the country but only 5,100 will be able to open due to security concerns, according to the IEC.
For weeks, media coverage has been dominated by reports of fraudulent voter registration and accusations of interference by powerful regional and local strongmen.
Instead of debating policy, most energy has been devoted to wrangling over issues like a new biometric voter verification system which political parties have insisted be introduced at the last minute.
The last of 22,000 handheld biometric verification devices only arrived in Kabul late last month and will be sent out to the provinces in the coming days but no one is sure the $20 million system can be set up by voting day.
TWOGENERATIONS
Samiullah Mahdi, a prominent television journalist running for parliament, admits the process is "not much trusted". But he sees the race as a chance to replace a discredited political class of power brokers and local bosses, many who have grown rich on contracts linked to the war.
"Sometimes I feel it's a struggle between two generations," he said. "They have the money, the power, the guns and the political power but they think mainly about past glories and past grievances."
"If we have fair elections, people will be able to vote for a new generation that thinks of the future."
Under the constitution, parliament reviews and ratifies laws but has little effective power and has become a byword for the rampant abuse that has put Afghanistan near the bottom of Transparency International's world corruption index.
According to a United Nations report from May, "Afghanistan's legislature is part of the corruption problem and has for the most part avoided trying to be part of the solution." Thieving parliamentarians are stock joke figures for social media commentators and television comedians.
"People are fed up, they want change," Mahdi said. "Some think, 'Why do we need parliament?' but that's because we've had bad members of parliament."
Thirty five candidates of the 2,500 have been barred from standing by the IEC because of suspected links to armed groups, or involvement in cases of murder, extortion or rape. Many more, who face similar accusations, remain on the list.
Nobody is expecting the election to be free of fraud or violence but if the vote does not take place before Afghanistan's harsh winter weather sets in, a nationwide ballot will be impossible until next year.
Persistent rumours in Kabul suggest that if the biometric system cannot be set up in time, a delay may be necessary. Foreign donors fear that if that happens, the credibility of Afghanistan's fledgling democratic institutions may be fatally undermined.
"Even though there will be limitations, it is better than a new postponement of the elections, so they must happen on that particular day," the EU's Mayaudon said.
(Reporting by James Mackenzie; Editing by Raju Gopalakrishnan)