Washington Post publishes blank column after the paper's Saudi journalist goes missing
Comments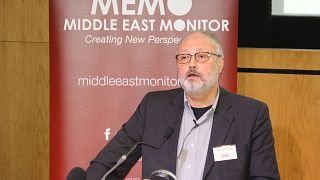 The Washington Post put out a blank column in its Friday edition after the disappearance of Saudi journalist Jamal Khashoggi.
A regular Post contributor, Khashoggi went into the Saudi embassy in Istanbul, Turkey, on Tuesday to get paperwork to get married next week but never came out, his fiancée, Hatice, told the Associated Press.
The Saudi writer was known for criticising the kingdom's crown prince in columns for the American newspaper.
In a separate editorial, the Post wrote "we are extremely disturbed to have had no contact from Jamal since he was last seen visiting a Saudi Consulate in Istanbul on Tuesday. At the time of this writing, we have not been able to reach him. We have inquired about Jamal's whereabouts, and expressed our deep concern, to both Turkish and Saudi officials."
The paper's empty column was titled "A missing voice" and had Khashoggi's byline.
Saudi Arabia has denied it has arrested Khashoggi and said the journalist "exited shortly" after requesting paperwork related to his marital status.
"The government of Saudi Arabia follows up diligently on any reports related to the safety of any of its citizens and will continue to follow up on these reports," Saudi authorities said in a statement to the Associated Press.
But Turkish officials believe the journalist is being detained in the embassy.
Press freedom groups such as Reporters Without Borders and the Committee to Protect Journalists have expressed concern for the safety of the Saudi journalist.
Khashoggi has been living in self-imposed exile in the United States for the past few years. A leading Saudi journalist, he extensively covered conflicts across the Middle East between 1987 and 1999 including the Afghan war. He also, on several occasions, interviewed Osama bin Laden.
His critical reporting of his native country saw him lose his job as editor-in-chief of Saudi's Al-Watan newspaper in 2003 after only 54 days in the post. A second stint saw him stay at the helm of the media outlet for nearly three years before being fired again in 2010. A television news channel he was in charge of was shut down after only 11 hours on air in 2015.