Theresa May sticks to her guns on Brexit: second referendum would be 'politicians' vote'
Comments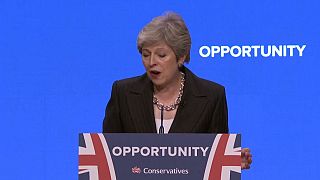 British Prime Minister Theresa May addressed the Conservative party conference today amidst infighting, a potential leadership challenge and disdain for her Chequers plan.
But instead of coming out fighting, she came out dancing.
Before the keynote address, there had been more dissent as a letter was sent to the chairman of the powerful 1922 Committee expressing no-confidence in the prime minister. Party members waited to see if there was any mention of such things, but no.
May put on an air of confidence and good humour, even mocking last year's coughing fit and disintegrating scenery.
Much mention was made of what she considers to be the impoverished state of the opposition Labour Party, with particular attention to the leader, Jeremy Corbyn. There were strands supporting diversity and equality. There was pride in the NHS and a reiteration of the 394 million pounds it will be getting per week by 2023. She detailed the government's Cancer Strategy. She even quipped about a recent TV drama series.
But the thrust of May's 2018 conference speech was much the same as many speeches this year — she intends to "honour the result of the referendum".
"A second referendum would be a politicians' vote," she said.