Trump plans travel push to stave off 'blue wave' in House races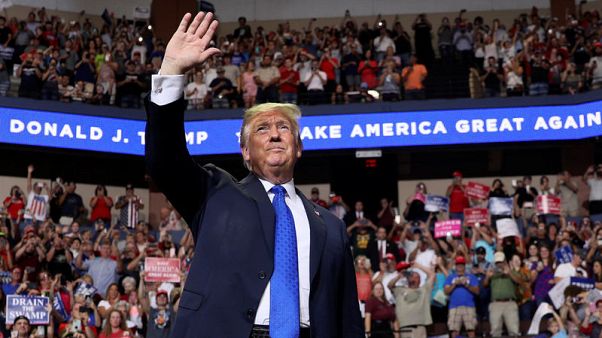 -
By Roberta Rampton
WASHINGTON (Reuters) – U.S. President Donald Trump plans to visit six states over the next 10 days to energize his supporters to turn out for Republicans in tight races for the House of Representatives in upcoming congressional elections, according to a White House memo.
Trump's Republican Party is at risk of losing control of the House in the Nov. 6 midterm vote at a time when, historically, the party in control of the White House loses ground in Congress.
Trump heads on Thursday to Minnesota where Republicans want to give a boost to two House candidates: one in an open race and another, a first-term incumbent, who is running in a Democratic-leaning district.
He then plans to visit Kansas on Saturday, Iowa on Tuesday, Pennsylvania on Wednesday, Ohio on Friday and Kentucky on Saturday, Oct. 13, according to the internal memo seen by Reuters.
In August and September, Trump campaigned for 10 House candidates in competitive races, flooding local markets with news about the Republicans and the president.
This year, opposition to Trump has ignited Democratic voters to volunteer and vote for congressional candidates. If a "blue wave" sweeps Democrats into power in the House, they could stop Trump's legislative agenda and tie up the White House with investigations.
To take control, Democrats need to gain 23 seats held by Republicans. (Graphic: https://tmsnrt.rs/2ybn8mp)
Historically, the party that holds the White House typically loses seats in the first congressional elections after a president's initial two years in office.
Republican polling shows Democrats are more energized. In September, 61 percent of Democrats rated their interest in the Nov. 6 election as a '10' on a scale of 10, while only half of Republicans felt the same way, Trump's political director Bill Stepien wrote in the memo.
"Needless to say, that's a significant problem for the Republican Party," Stepien wrote.
The only path to stop Democrats is if Republican candidates capitalize on overall voter optimism – and "clearly and boldly align themselves" with Trump's policies to motivate his core supporters, Stepien wrote.
Internal Republican polling done in September showed that 40 percent of voters believe that the country is going in the right direction, a level consistent with external polls using the same widely used "right direction" question.
In midterm elections in 1990, 1998 and 2002 where the "right direction" figure similarly was at or above 40 percent, there was not a sweep of House seats by the party opposing the president, Stepien noted, calling the "right direction" question a "harbinger" for the outcome.
In the 1990 midterm, with President George H.W. Bush in office and 40 percent of voters believing the country was headed in the right direction, Republicans lost eight House seats.
Similarly, in 1998 under President Bill Clinton, the "right direction" average was at 49 percent, and Democrats picked up five House seats.
"History tells us that there has not been a wave midterm election in the last 30 years when the country's right direction figure is at or above 40 percent," Stepien wrote in the memo.
(Reporting by Roberta Rampton; Editing by Tom Brown and Jonathan Oatis)
euronews provides breaking news articles from reuters as a service to its readers, but does not edit the articles it publishes. Articles appear on euronews.com for a limited time.