New Jersey surfer dies from brain-eating amoeba
Comments
By Kalhan Rosenblatt with NBC News U.S. News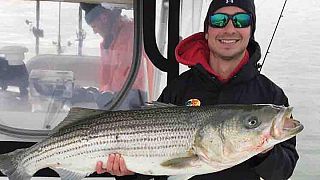 Fabrizio "Fab" Stabile, 29, was mowing his lawn in Ventnor, New Jersey, last month when he was overcome with a powerful headache.
After taking medication, Stabile slept through the night, but when he awoke the next day he was speaking incoherently, according to a GoFundMe page.
Stabile died two days later on Sept. 21 from Naegleria fowleri. It is believed he contracted the ferocious brain-eating amoeba after visiting BSR Cable Park's Surf Resort in Waco, Texas.
"We were hopeful until the end, but unfortunately, on Friday, Sept. 21, we learned the heartbreaking news that Fabrizio was pronounced brain dead as a result of this brain-eating amoeba," the GoFundMe page reads.
In one week, nearly $23,000 has been raised to start the Fabrizio Stabile Foundation for Naegleria Fowleri Awareness, according to the GoFundMe page.
An obituary for Stabile in the Press of Atlantic City newspaper said he was an "avid outdoorsman," who had worked for the New Jersey Department of Environmental Protection and Bass Pro Shops.
Naegleria fowleri is a microscopic amoeba commonly found in warm freshwaters like lakes, rivers, and hot springs around the world, according to the Centers for Disease Control and Prevention. If water containing the amoeba goes up the nose, it can cause an infection that is fatal 97 percent of the time.
The CDC said Monday it is assisting the Waco-McLennan County Public Health District and the surf resort, which voluntarily closed following Stabile's death, in testing for Naegleria fowleri. Stuart Parsons, the park owner, said in a statement that it will remain closed until the testing is completed.
No other illnesses have been reported, according to the CDC.
Health
Doctors are not sure how or why a very few people are susceptible, but it's clear that having water forced up into the sinuses, perhaps by dunking or diving, is an important factor.
"Our hearts and prayers are with his family, friends, and the New Jersey surf community during this difficult time," Parsons said in a statement. "BSR Surf Resort operates a state-of-the-art artificial man-made wave. We are in compliance with the CDC guidelines and recommendations concerning Naegleria fowleri."
Symptoms generally include fever, severe headache, stiff neck, sensitivity to light, nausea, and vomiting, according to the Mayo Clinic.
Recent confirmed victims include Lauren Seitz, 18, from Ohio, who died in 2016 after visiting the U.S. National Whitewater Center in Charlotte, North Carolina, and Sebastian DeLeon of Weston, Florida, who contracted the brain-eating amoeba in 2016 and survived.