Hunt's 'Soviet prison' comments 'repugnant', Stubb tells Euronews
Comments
By Darren McCaffery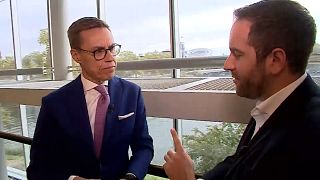 Alexander Stubb, who is running to become a candidate for European Commission president, has told Euronews that a comparison made between the European Union and the Soviet Union by the British foreign secretary was "repugnant and stupid".
Speaking at the annual conference of his Conservative Party on Sunday, Jeremy Hunt suggested that the EU's negotiations on Brexit resembled the approach of the Soviet Union "that stopped people leaving.
"I find his comments repugnant, to be quite honest. I think they are ahistorical and for anyone to compare the European Union with the Soviet Union which, after all, I would argue was the source of a lot of misery, deaths of millions of people - it just didn't make sense to me," Stubb said in an interview with Euronews' Politics Editor Darren McCaffrey.
"In today's world we live in different types of 'apologise this, apologise that', I just think it was a stupid thing to say," he continued.
Stubb, a former Finnish prime minister, today threw his hat into the ring to be the conservative candidate to become the next European Commissioner