French court convicts former aid worker for ironic tweet | #TheCube
Comments
By Cindy Pom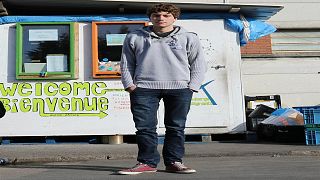 A French court has convicted a former aid worker of defamation over an ironic tweet.
Loan Torondel sent a tweet in January with a picture of two police officers standing over a man who appears to be a migrant, sitting on his sleeping bag. The caption suggests the officers are about to take away his bag, with Torondel sarcastically writing "but, we are the French nation, sir," mocking French President Emmanuel Macron's use of the phrase when he gave a speech in December 2017 about overcoming adversity.
The police officers filed a defamation complaint against the 21-year-old. On Tuesday, a court in Boulogne-sur-Mer in northern France found Torondel guilty of defamation, ordering him to pay €500 to the officers, as well as €475 in court fees.
"I was really surprised by this court decision," Torondel told Euronews.
"They are trying to charge a humanitarian worker for speaking about human rights. I'm really surprised," he added.
Torondel, who was working with the aid group L'Auberge des Migrants in Calais at the time, explained that he was using his tweet to try to show the treatment of migrants. He noted that the scenario described on Twitter was imaginary, but pointed out that he has seen cases like the one he described in his tweet of police mistreating migrants in Calais.
The decision by the French court is drawing criticism from human rights groups.
"This sentence sets a dangerous precedent and is symptomatic of the pernicious ways French authorities seek to obstruct the work of humanitarian volunteers working with migrants and asylum seekers," said Bénédicte Jeannerod, France director at Human Rights Watch.
Euronews has reached out to the court in Boulogne-sur-Mer for comment. The court acknowledged the request for information but has not yet provided Euronews with the reason behind the decision.
Torondel said he will appeal the verdict.
#TheCube is a newsdesk run by a team of Euronews journalists specialising in social discovery and verification. They comb through social media to find, verify, and debunk stories, in real-time, for our audiences on-air and online.