Danish police operation temporarily shuts major bridges, ferries to Sweden, Germany
Comments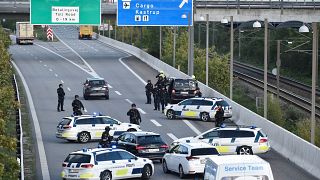 -
Copyright

Reuters for Scanpix
A manhunt headed by Danish police on Friday saw two major bridges temporarily shut to traffic and ferry services from Denmark to Sweden and Germany halted, according to Copenhagen police.
The Great Belt Bridge and Öresund Bridge were later reopened to all traffic, but the operation continued into the evening.
Copenhagen Police were searching for a black Swedish registered Volvo V90 with registration number ZBP 546. They said there were likely three people in the vehicle "who were involved in a serious crime."
In a search that included "almost the whole country", heavily armed policemen were looking inside cars and inside trunks," the Danish Broadcasting Corporation said citing the police.
By Friday evening, Copenhagen Police confirmed that the vehicle had been found. 
"We have found the vehicle that we believe is the right one. As previously stated, it is believed that it was involved in serious criminality," said inspector Jørgen Bergen Skov at a press briefing. "We are at a point where we cannot say more."
When asked if the incident was terror-related Skov declined to answer but stressed there was no need for public concern. 
The Öresund Bridge was closed in the direction of Sweden just before two o'clock. The Great Belt Bridge, which links the Danish islands of Zeeland and Funen, was initially only opened to allow one lane of traffic to pass through in the direction of Sjælland (Zealand).
The former head of the Danish Security and Intelligence Service Jørgen Bonnichsen told TV-2: "I have worked in Danish police for 41 years, and I have never seen these kinds of measurements taken."