Europe to wear yellow tribute ribbons for Barquin Arozamena
Comments
By Reuters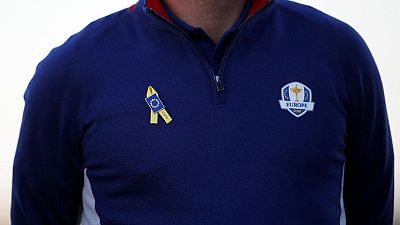 -
By Mitch Phillips
PARIS (Reuters) – Europe's traditional Ryder Cup colours will carry a hue of sadness this week as the players don yellow ribbons in tribute to Spanish amateur golfer Celia Barquin Arozamena, who was stabbed to death on a course in the United States last week.
Ryder Cup officials approached Barquin Arozamena's family to discuss a tribute and were told her favourite colour was yellow.
"It was very sad when we found out," fellow Spaniard Sergio Garcia said on Wednesday.
"My dad spoke to her uncle, and it was very sad when we found out on Tuesday morning (last week) in Portugal, for many reasons, not only because she was way too young, but she was just too nice of a person, and the way it happened.
"Unfortunately these things happen in the world, and nowadays, more than ever. It's sad. But I guess the only thing we can do is pay a great tribute to her and make sure that her family feels proud of us, and I know they feel proud of her."
The 22-year-old Barquin Arozamena was a leading amateur based at Iowa State University and had hoped to turn professional. Police have charged a man with first degree murder.
"We want to try to win the Cup for Europe, for everyone, for our team mates, but obviously with the passing of Celia, it's an extra effort there," Garcia added.
"We're obviously touched by it. Hopefully we can make sure that the family are proud."
European captain Thomas Bjorn voiced similar thoughts during his news conference on Tuesday. "The golfing family extends way beyond what we are trying to do this week," he said.
"She was such a great prospect for the game of golf but also a wonderful person."
(Reporting by Mitch Phillips; Editing by John O'Brien)