Europe briefing: 6 stories to know about today
Comments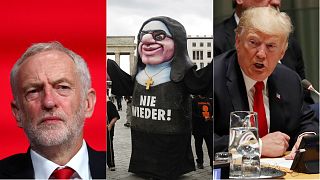 1) Swedish PM Stefan Löfven ousted after no-confidence vote
Swedish Prime Minister Stefan Löfven was voted out by a majority of parliament on Tuesday morning. It remains unclear who fill form the next government with analysts expected the speaker to pick Ulf Kristersson — leader of the biggest Alliance party, the Moderates — to try and form a new government. However, he will need the support of the Sweden Democrats or the centre-left. In the September 9 election, the Social Democrat centre-left bloc garnered 144 seats, one more than their centre-right rivals, the Alliance.
2) Germany Catholic church scandal
Bishops in Germany are set to discuss a large-scale study on sex abuse commissioned by the German Bishops' Conference in 2014. Spiegel Online and Die Zeit have said the report finds 3,677 minors were abused by the clergy between 1946 and 2014. However, the total number of assaults could be greater and it's also impossible to say how many cases went unreported. The investigation also didn't include all Catholic institutions such as religious orders, Catholic schools or children homes, said Euronews' Berlin correspondent Jessica Saltz.
3) UK's Labour Party prepares to vote on May's Brexit deal
The UK Labour Party is likely to vote against any deal Prime Minister Theresa May reaches with the European Union and is open to the option of a second referendum with the option of staying inside the union, said Brexit spokesman Keir Starmer on Tuesday. Labour has listed six tests it would apply to any Brexit deal, which May has yet to reach with the EU.
4) New hope arises for paralysed patients
Thanks to a pain stimulator and a specialised therapy programme, at least five people whose legs were completely paralysed have started walking again, two of them with no outside help. The experiments show that the spine can act on its own to move limbs, say researchers at the University of Louisville in Kentucky where the new approach for treating spinal cord injuries was developed.
5) Rouhani has no plans to meet Trump during his visit to New York
Iranian President Hassan Rouhani told NBC News on Monday that he has no plans on meeting US President Donald Trump during his visit to New York this week. He said the US had only employed threats and sanctions against his country. He also accused the US of adopting a hostile stance toward Iran and turning its back on diplomacy after its unilateral withdrawal from a nuclear agreement between Iran and world powers.
6) Aquarius migrant ship cannot disembark in French port: Minister
France is not ready, for now, to allow rescue ship Aquarius to dock and disembark dozens of migrants at the port of Marseille, France's finance minister said on Tuesday. Speaking to RTL news TV channel, Medecins Sans Frontieres project coordinator Aloys Vimard said the ship was no longer heading towards Marseille as it was changing routes to assist a rubber boat with 100 migrants on board. NGOs operating the Aquarius had asked France if the ship could dock in Marseille's port earlier. Panama's move to cancel the registration of the ship means there will be no charity rescue ships operating off the Libyan coast in the near future.
This is how we covered key developments this morning: