Brazil's jobs crisis lingers, posing challenge for next president
Comments
By Reuters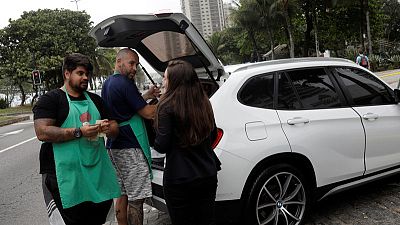 -
Copyright

RICARDO MORAES(Reuters)
By Gabriel Stargardter
RIO DE JANEIRO (Reuters) – After losing his job with a foreign food company in March, Alexander Costa surveyed Brazil's anaemic labour market and decided to start selling cheap lunches by the beach in Rio de Janeiro to try and provide for his young family.
"I could have stayed home, looking for work, sending out resumes, with few jobs and things very hard," Costa said. "But I didn't stand still. I decided to create something different … to reinvent myself."
Many other Brazilians have also had to reinvent themselves in recent years, as Latin America's largest economy struggles to overcome a jobs crisis more than a year after officially exiting recession.
Nearly 13 million people – or more than the entire population of Greece – are out of a job, with the unemployment rate hovering between 12 percent to 14 percent since 2016. As a result, unemployment is among voters' top concerns ahead of next month's election.
The desperate search for work amid a string of political graft scandals and rising violence has soured the mood, polarizing debate and distracting from the country's underlying fiscal challenges.
But only by lowering the unemployment rate will Brazil achieve the rise in household spending it needs to maintain sustained growth, said Marcos Casarin, the head of Latin America macro research at Oxford Economics.
"The only way to have a prolonged recovery in economic activity is if unemployment starts to fall in a substantial way," he said.
However, it could take several years to get the rate below 10 percent, he said, adding: "I'm not very optimistic."
DIVISIVEFIGURES
With no presidential candidate likely to win a majority in the first-round vote on Oct. 7, it looks increasingly likely voters will face a choice between two candidates in the Oct. 28 run-off: far-right Jair Bolsonaro and leftist Fernando Haddad of the Workers Party.
Both are divisive figures — rejected by nearly half the electorate — making it likely that either one will face an uphill battle to pass ambitious economic reforms that foreign investors have long called for.
Bolsonaro has vowed to erase Brazil's primary budget deficit by 2020 through controversial privatisations and spending cuts.
Haddad has proposed broadening the central bank's mandate to include unemployment, while boosting government-led investments, revoking a spending ceiling and scuttling privatisations.
Both Bolsonaro and Haddad are pitching their proposals as ways to tackle the unemployment crisis, which has pushed many into the informal sector, sapping tax income and leaving workers without paid holidays, salary raises and other benefits.
Outgoing President Michel Temer last year passed an overhaul of the country's labour laws, which was intended to make the job market more flexible and which the government said would help create new jobs, an effect that as yet has failed to materialise.
Bolsonaro supports Temer's labour reform and wants to further cut work regulations to boost jobs. Haddad has suggested putting the labour reform, which was opposed by unions, to a referendum, while also advocating a short-term stimulus programme.
Costa, however, was unwilling to wait and see what Brazil's next president comes up with.
His meals-on-wheels business started slowly, selling 13-reais ($3) lunches from the back of his car in Rio's wealthy Barra da Tijuca neighbourhood. But business took off when he joined forces with his friend, Stefan Weiss, whose white BMW provides a ritzier shop window from which they now sell roughly 200 hot meals each day.
"At the moment, Brazil faces a big problem in relation to the economy and the lack of jobs," said Weiss, who works on an offshore oil platform but sells meals on days off to earn extra cash. "The people who lost their jobs are trying to find new ways to establish themselves in the market."
(Reporting by Gabriel Stargardter; Additional reporting by Bruno Federowski; Editing By Brad Brooks and Rosalba O'Brien)