Europe briefing: 6 stories to know about today
Comments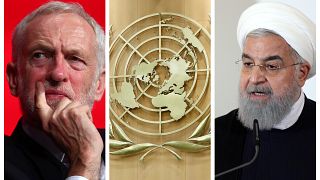 -
1) US and China impose new tariffs with no trade talks in sight
The US and China imposed fresh tariffs on each other's goods on Monday with no signs of backing down from the trade dispute. Chinese products hit with new tariffs include vacuum cleaners and internet-connected devices. As for US goods, liquefied natural gas and certain types of aircraft were among the products stamped with new taxes. China accused the US of engaging in "trade bullyism" and said it was intimidating other countries to submit to its will, according to the Xinhua news agency. Economists warn that a protracted dispute could impede growth not only for the US and Chinese economies but for the world economy as well.
2) Second woman accuses Brett Kavanaugh of sexual misconduct
A second woman has accused US President Donald Trump's supreme court nominee Brett Kavanaugh of sexual misconduct. The woman, identified as Deborah Ramirez, described another instance of alleged sexual misconduct by Kavanaugh when both attended Yale University in the 80s. The New Yorker magazine published an article with her interview on Sunday. This comes hours after university professor Christine Blasey Ford, who first accused Kavanaugh of sexual assault, confirmed she would testify before a Senate panel this coming Thursday about her allegation. Ford alleges that Kavanaugh assaulted her while they were high school students in Maryland in 1982. Kavanaugh has called Ford's allegation "completely false" and in a statement provided by the White House on Sunday night said the incident described by Ramirez "did not happen."
3) US' Nikki Haley denies Iran's allegations of involvement in military parade attack
US Ambassador to the United Nations Nikki Haley dismissed Iran's statement that Washington was to blame for a deadly attack in a parade that killed 25 people on Sunday. Senior commanders of the Islamic Revolutionary Guards Corps (IRGC) said the attack was carried out by militants trained by the Gulf states and Israel with US backing. Four assailants fired on a viewing stand in the southwestern city of Ahvaz where Iranian officials had gathered to watch an event marking the start of the Islamic Republic's war with Iraq in the 1980s. Iran's Revolutionary Guards vowed to impose "deadly and unforgettable" vengeance for the attack.
4) Britain's Labour Party to vote on keeping second Brexit referendum on table
Britain's Labour Party would keep the option for a second vote on any Brexit deal struck with the EU on the table but it would prefer a national election to sort out the issue, said Shadow Chancellor of the Exchequer John McDonnell. British Brexit secretary, Dominic Raab, expressed confidence on Monday that the UK would make progress and eventually conclude a Brexit deal with the European Union.
5) Rescue ship Aquarius stripped of its registration
The Panama Maritime Authority has revoked the registration of search and rescue ship Aquarius 2. The vessel is the one remaining charity rescue ship still operating in the area used for crossings from Libya to Europe and currently has 58 survivors on board. The move ends all charity-run rescue missions off the Libyan coast unless the ship can find a new flag under which to sail. SOS Mediterranee, who works on the ship, put out a statement blaming the Italian government for applying pressure on Panama to revoke the registration. But Italy's Interior Minister Matteo Salvini said the Italian government had not applied any pressure.
6) French ship rescues stranded Indian sailor
A French ship has rescued an Indian sailor injured in a gruelling round-the-world race, an organiser confirmed to Euronews on Monday. The sailor, Indian naval commander Abhilash Tomy, called for emergency aid on Saturday after the yacht was badly damaged in a storm about 3,500 km (2,175 miles) west of the Australian coast, leaving him with severe back injuries. The French fisheries patrol vessel, OSIRIS, was able to reach Tomy's yacht on Monday morning, before transporting him to Amsterdam Island where he will be assessed.
This is how we covered key developments this morning: