Watch: Onlookers do nothing as man fights off carjacker for 12 minutes
Comments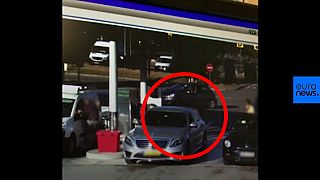 Copyright

France Television
The car used to drive into Lyon airport in early September was stolen at a petrol station in Dijon hours earlier.
CCTV footage of the moment shows the attacker and driver fighting for 12 minutes with no intervention from onlookers.
"12 minutes. For 12 minutes he shouted: 'Help me, help me'," said the victim's boss and owner of the hijacked car, Jerome Meunier.
"The guy was bleeding and the person next to him continued filling his car up," he added.
The attacker even tried to run the man over when he resisted. At this moment, a white van stopped having noticed the struggle but drove away.
Along with his boss, the victim decided to make a complaint against both the customers and staff for failing in their "duty to rescue".
This is a concept in French law describing circumstances in which a party can be held liable for failing to come to the rescue of another party.