Unopened letter to Anne Frank's father fetches €9,500 at auction
Comments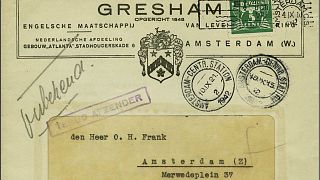 Copyright

Corinphila Veilingen
An unopened letter sent to the father of teenage Jewish diarist Anne Frank while the family was in hiding from the Nazis was sold at auction on Friday for €9,500.
The letter, which bears a red "return to sender" stamp on its envelope, was sent to Otto Frank by an insurance company in 1942 to his home in Amsterdam.
However, when it reached the house, the family was already in hiding.
Dutch auction house Corinphila Veilingen did not name the new owner of the letter, which is described in a statement as "a unique testimony of the times".
"It calls to mind the most difficult period in the life of the Frank family, their underground existence," it said.
The family spent more than two years in hiding, which Anne Frank documented in her now-famous diary before they were discovered and sent to concentration camps.
Otto Frank was the only member of the family to survive the Holocaust. He died in 1980.