Fish eaters beware! European report warns of mercury threat
Comments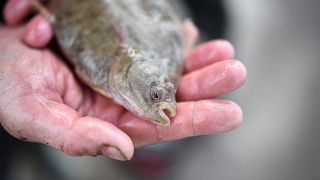 Copyright

REUTERS/Clodagh Kilcoyne
A newly released European report warns against consuming certain fish due to high mercury levels.
The report, released by the European Environmental Agency (EEA) highlights that mercury contamination remains "a significant risk to both the global environment and human health".
The report noted that the dietary advice on fish consumption is of particular importance to women and children, who may be most affected. The report gave reference to safety advice on fish consumption from EU Member States, with Poland warning pregnant women and children against eating swordfish, shark, tuna and Panga fish.
Children under 16 are advised against eating swordfish, shark or marlin in the UK, while adults are warned against eating more than one portion of the aforementioned fish per week. The Netherlands advises all against the consumption of shark and swordfish.
Diet is the "primary way" in which people in Europe are exposed to mercury. When mercury is present in oceans, rivers and lakes, it is converted to the toxic methylmercury which is absorbed by fish and other animals.
The research also noted that climate change will likely increase the risk of high mercury consumption, and cited the mobilisation of mercury that is trapped within the soil through flooding while increased rainfall would deposit greater levels of the metal from the atmosphere. In addition, the thawing of soil will mobilise trapped metals into waters which, when consumed by fish.
Over the past few decades, Europe has taken steps to reduce its mercury emissions through the reduction of coal burning, metal processing and has put limits or bans on the use of mercury in common products. Effective waste management and the reduction of gold mining within the EU has also aided in the reduction of airborne mercury which can be inhaled. However, mercury present in agricultural products such as manures and fertilisers remains an issue for European water quality and the contaminant seeping into the food chain.
The report notes that the effects of the toxin depend on the amount consumed and the level at which the toxin is absorbed, which can damage to lung tissue when inhaled, and brain, kidneys and nervous system when consumed.