Watch: Museum staff show preservation process of whale skeleton
Comments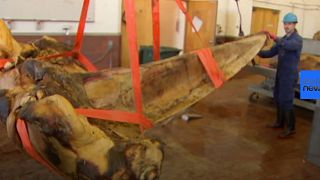 Staff at the South Australian Museum are working to prepare animals for preservation.
There are at least 1,300 skeletons preserved in the museum's warehouse, which has the best whale and dolphin collections in Australia.
The whale seen here is a rare find. Measuring around 12 metres and weighing 15 tonnes, a discovery such as this only occurs every few years.
Although different museums use various techniques to preserve the animals, such as burying them and allowing the specimen to decay naturally, the South Australian Museum removes most of the flesh by hand, before allowing the skeleton to undergo maceration in tanks to remove remaining meat which may take several months.
"Literally bone by bone gets extracted out of the whale, then transported back on a big trailer, a car trailer in this case," David Stemmer, the museum's collection manager said.
The museum relies on volunteers, ranging from students to taxidermy enthusiasts.
Anastasia Davies, a volunteer at the museum, spoke of her work experience.
"It's one thing to look at them in a museum, it's another thing to get up close and personal, to move them, to see how the tendons operate," she said.
The preservation process can take up to two years to complete, and the data collected is used by scientists and researchers globally.
The collection at South Australian Museum is an invaluable resource to scientists, "not just because we have lots of them, but because each specimen also has lots of different kinds of things related to it," said research manager Dr Catherine Kemper.
The smell of the carcasses can add difficulty to the unenviable task. Stemmer described the scent as "persistent," adding that "it gets stuck in your clothes, it even gets stuck in your skin," although he has gotten used to it over time.
The museum works not only in research but also in science communication with a wide range of exhibitions including dinosaurs, sea life and bird displays.