Hungarian PM Viktor Orban to take part in European Parliament debate ahead of crucial vote
Comments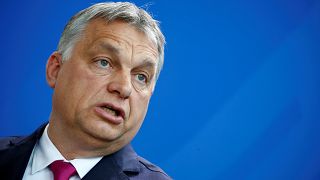 Hungarian Prime Minister Viktor Orban will participate in a European Parliament debate today, ahead of a critical vote on Wednesday.
The European Parliament is set to vote on a draft motion urging member states to trigger Article 7 of the EU's treaties against Hungary.
The so-called "nuclear-option" procedure could ultimately strip Hungary of EU voting rights.
Dutch Green MEP Judith Sargentini, who produced the draft report, accused Orbán's government of posing a "systemic threat" to the EU's fundamental principles and compelled her contemporaries to support her recommendation to launch the little-used Article 7.
"She believes this could really be backed when it's voted tomorrow in parliament, even by some members of the European People's Party," said Méabh McMahon, Euronews Correspondent in Brussels.
Zoltan Kovacs, the Hungarian government's spokesperson tweeted that the "report is misleading, riddled with factual errors & lies,"