North Korea holds military parade without ballistic missiles
Comments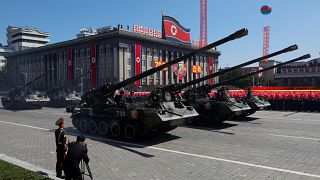 No long-range missiles were on display on Sunday as North Korea staged a military parade to mark the 70th anniversary of its founding.
The lack of intercontinental missiles was in stark contrast to previous years' celebrations, and is being viewed as an effort by North Korean leader Kim Jong-un to prove his professed commitment to denuclearisation.
In June, Kim signed an agreement with US President Donald Trump to work towards the denuclearisation of the Korean peninsula, and has repeated the commitment in meetings with South Korean President Moon Jae-in and Chinese President Xi Jinping.
The lack of long-range missiles was "more or less expected because displaying ICBMs this year during diplomatic processes would have been too provocative," Duyeon Kim, a senior fellow at the Center for a New American Security, wrote on Twitter.
But, she added, it is "a signal that [North Korea] is continuing to play nice for now & being mindful."
During the parade, people waved balloons, flowers and flags as goose-stepping soldiers, tanks and floats passed by.
Kim was seen laughing and holding his hands up with a Chinese special envoy as he oversaw the festivities. He waved to the crowd before leaving, but did not make any public remarks.
Kim and Moon will meet in Pyongyang on September 18 for the third time this year to discuss "practical measures" towards denuclearisation, officials in Seoul have said.
In pictures: