Moscow mayor and residents vote for city head
Comments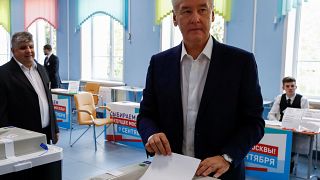 Copyright

REUTERS/Sergei Karpukhin

-
Russian President Vladimir Putin's former chief-of-staff Sergey Sobyanin is expected to be re-elected Moscow's mayor on Sunday, according to recent polls.
At the voting station Sobyanin, an Independent incumbent said he was as "nervous as a scholar at an exam" and thanked all those who came to cast their votes.
"It is an exam I have been preparing for in the past five years. I want to thank all the supporters and all those who will vote for me today. I wanted to thank everyone who will come to the election. It is indeed a very important day for the whole city, for us all, for Moscow," said Sobyanin.
The election is the first test at the ballot box for the authorities since President Putin, whose popularity has tumbled by around 15% due to public anger over planned increases to the nationwide pension age, which could translate to many voters staying away from voting booths today.
The changes, going through parliament, are the most unpopular government measure since a 2005 move to scrap Soviet-era benefits led to nationwide pensioner protests.
Frontrunner Sobyanin, who has run Moscow since 2010, has recorded a rare personal appeal to voters asking them to show up to vote.
Sobyanin has also promised to protect Moscow's around three million pensioners, who like the rest of the country face a phased five-year increase in the pension age.
After being amended by Putin, the reforms envisage raising the retirement age for men to 65 from 60 and to 60 from 55 for women. Average life expectancy for men is 66 and for women 77.
According to the latest WCIOM opinion polls, Sobyanin leads with 69.4%, followed by Vadim Kumin of the Communist Party with 13.2%. Mikhail Degtyarev of the Liberal Democratic Party has polled at 7.8%, followed by A Just Russia candidate Ilya Sviridov at 6.5%. Russian billionaire Mikhail Balakin, of the Union of Citizens party has been polling at 1.4%