Feeling good: positive stories from the week
Comments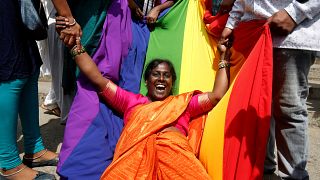 Studies have shown that increasing positive emotions has a powerful effect on our general wellbeing.
Having always a look on the bright side can change our perception and even our reasoning! But is it really that simple with news? We know it's not.
This is why we'd like to introduce you to our roundup of some of the brightest stories from this week.
We hope they'll give you a nice shot of positive energy to cheer up your Friday!
Gallo, the blind teacher who coaches surfers on the beaches of Spain
Aitor 'Gallo' Francesena was born with a degenerative eye disease, lost his sight in his right eye at the age of 14 and went completely blind in 2011. But these challenges have not stopped him from practising his two great passions: surfing and teaching.
India's top court decriminalises gay sex in historic ruling
In a landmark decision on Thursday, India's Supreme Court ruled that consensual gay sex is no longer a crime. The five Supreme Court judges reached the unanimous decision following weeks of deliberation.
Chief Justice Dipak Misra said the colonial-era ban was "irrational, indefensible and manifestly arbitrary."
World's oldest diver breaks his own record
A 95-year-old British man has broken his own record as the world's oldest diver. Ray Woolley, a World War Two veteran, was diving to explore a shipwreck off the coast of Cyprus.
With a group of fellow divers, Ray dropped to a depth of just over 40.6 metres for 44 minutes, surpassing his achievement last year when he descended to 38.1 metres for 41 minutes.
World's largest offshore wind farm opens off northwest England
The wind farm has a capacity of 659 megawatts, enough to power almost 600,000 homes. It overtakes the London Array off England's east coast which has a capacity of 630 MW.
The project is made up of 87 turbines built by Siemens Gamesa and MHI Vestas, each around 190 metres tall and spanning a total area of 145 square kilometres.
Burberry stops setting fire to unsold clothes
Luxury British fashion brand Burberry announced on Thursday that it will no longer destroy unsold products, with immediate effect.
"This commitment builds on the goals that we set last year as part of our five-year responsibility agenda and is supported by our new strategy, which is helping tackle the causes of waste," the fashion label said in a statement.
While we use only credible sources in this news roundup, Euronews has only independently verified those published on Euronews.com or livingit.com