Fake bomb causes real chaos at Newark Airport
Comments
By Alex Johnson with NBC News U.S. News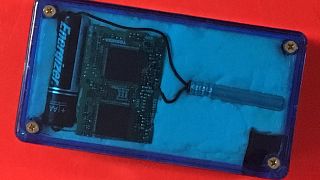 Copyright

Transportation Security Administration

-
A man transporting a dummy bomb to a security training event was arrested after his very realistic replica led authorities to close six security lines Tuesday morning at Newark Liberty International Airport in New Jersey.
The man, who wasn't identified, was traveling to Florida to take part in a training event on X-ray detection of explosive devices, said the Transportation Security Administration.
"He was carrying a test item that was built and designed to mimic a fully-assembled bomb when viewed on an X-ray monitor," the agency said. "Indeed, the item was a realistic replica explosive device."
The Essex County Bomb Squad was called in to make sure the device was fake, the TSA said.
"The item was built to look exactly like an explosive device," said Tom Carter, the TSA's federal security director in New Jersey. "The terror threat is real, and we do not take chances when it comes to protecting the lives of travelers."
It wasn't clear Tuesday whether man would be charged. The TSA has the authority to issue fines up to $13,000 to people individuals who take weapons to airports, and there are separate civil penalties for taking realistic replica explosives to airport checkpoints, said Lisa Farbstein, a spokeswoman for the TSA.
"The individual who brought this device to the checkpoint knew he had a replica bomb with him, and as such, he should have known better than to bring it to an active checkpoint," Carter said. "His foolish actions inconvenienced hundreds of passengers today."