Lopetegui does not regret joining Real despite Spain upheaval
Comments
By Reuters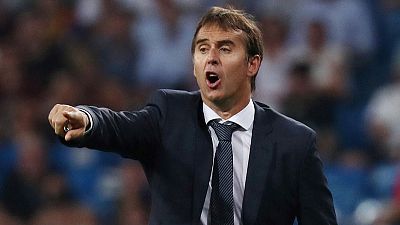 -
MADRID (Reuters) – Real Madrid coach Julen Lopetegui has said he is over his turbulent sacking from the Spanish national team and does not regret joining the European champions even though it cost him the chance to manage at the World Cup.
Lopetegui was fired by the Spanish Football Federation the day before the World Cup started for announcing his move to Real behind the organisation's back, throwing Spain's tournament preparations into chaos.
"I simply took a decision and I would take the same one again, I did it in the most honest way possible and I don't regret anything," Lopetegui told Spanish radio station Onda Cero on Tuesday.
"I'm absolutely happy to coach Real Madrid, we have a special challenge and great objectives. What happened happened and it can't be changed."
Spain, the 2010 world champions, were one of the favourites to win the World Cup but suffered a shock last-16 defeat by hosts Russia in a penalty shootout.
At his presentation as Real coach the day after being sacked by Spain, Lopetegui said "yesterday was the worst day of my life, today is the best".
"I don't want to look back, I explained how I felt in my presentation and I still feel that way," added Lopetegui, who has led Real Madrid to victory in their first three La Liga games although they lost the UEFA Super Cup to Atletico Madrid.
"I don't worry about how it was explained, I don't think back. It's over, we explained how we felt and I insist that we did the right thing, which was to say yes to Real Madrid. I would do it again," he said.
"Real Madrid supporters need to know that me and the players are fully focused on the club." Spain begin a new era under coach Luis Enrique on Saturday with a UEFA Nations League game away to England before hosting Croatia on Tuesday.
"I hope things go phenomenally well for Spain and for Luis Enrique, I'm a fervent supporter of the national team," Lopetegui said.
"It's an era in my life which has gone by, we have moved on and now we are focused on an objective which is big enough to not worry about looking back. We're focused on the now, what happened before is done."
(Reporting by Richard Martin, editing by Ed Osmond)