EU warns against Serbia-Kosovo land swap idea
Comments
By Reuters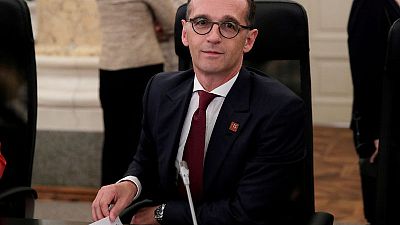 -
By Robin Emmott
VIENNA (Reuters) – Germany warned on Friday that redrawing Serbia's border with Kosovo would fan ethnic tensions, while other EU states seeking peace in the Balkans rejected land swaps as too dangerous.
Belgrade and Pristina have both this month raised the idea of redrawing their border.
Politicians and analysts in Belgrade say that a agreement allowing Serbia to maintain control over northern Kosovo, in exchange for the Presevo Valley, an ethnic Albanian-populated area in Serbia's south, could be acceptable to both sides, overcoming years of friction and allowing both nations to move towards EU membership.
Arriving for a meeting between EU foreign ministers and their Balkan counterparts, German Foreign Minister Heiko Maas said discussions about territorial exchanges were wrongheaded.
"We believe that this can tear open too many old wounds in the population and so we are very sceptical," Maas told reporters. Other EU foreign ministers echoed his position, with Luxembourg's Jean Asselborn fearing "very negative consequences" and Finland's Timo Soini saying it was risky.
Britain has also warned land swaps could be destabilising, but Serbia's Deputy Prime Minister Ivica Dacic said in Vienna that he was seeking a peaceful solution with Pristina, although he did not go into details.
Kosovo's President Hashim Thaci told Reuters on Aug. 14 that he would present his plan to Serbia's President Aleksandar Vucic when they meet in September in Brussels as part of a dialogue sponsored by the European Union.
Normalising bilateral relations is a key condition for both Serbia and Kosovo to advance towards their eventual goal of EU membership. The Balkan neighbours agreed in 2013 to resolve all pending issues but have so far made little progress.
Kosovo, whose population of 1.8 million is mainly ethnic Albanian, declared independence from Belgrade in 2008, almost a decade after NATO air strikes ousted Serbian forces and halted a crackdown on ethnic Albanians during a brutal two-year counter-insurgency.
It is now recognised by more than 100 nations but not by Serbia, Russia and five EU states, including Spain.
Most Serbs view Kosovo as the cradle of their nation and Orthodox Christian faith and Serbia, under its constitution, considers Kosovo an integral part of itself.
Following Britain's decision to leave the European Union, the bloc is eager to show it is still expanding and wants to offer the six Western Balkans countries a path to EU membership.
Albania, Bosnia, Kosovo, Macedonia, Montenegro and Serbia all hope to join the EU. Membership talks are already underway with Serbia and Montenegro.
But France and the Netherlands unexpectedly delayed in June a decision to allow membership negotiations with Macedonia and Albania for fear of stocking anti-immigrant sentiment at home, making EU enlargement more difficult, officials say.
(Reporting by Robin Emmott; Editing by Kirsten Donovan)