Both sides in Brexit say they are determined to reach a deal this Autumn
Comments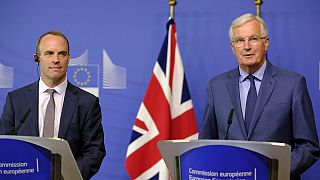 Both sides in the Brexit negotiations say they are determined to reach a deal this Autumn. The 17-18 of October EU Council summit is being seen as a deadline for an agreement in order for the UK and European Parliaments to have enough time to ratify it.
"I'm determined. I said this from the word go - we're going to find an agreement for an orderly withdrawal, which will be much better than a disorderly withdrawal," the EU's chief Brexit negotiator Michel Barnier told reporters after talks in Brussels on Friday. "Dominic and I think it's possible to reach that agreement in October. It's not a lot of time, but no one is talking about a few days here or there, but that's our objective."
His optimism was reciprocated by the UK government's Brexit Secretary, Dominic Raab:
"We're committed to the October Council - there's maybe some flexibility but we're committed to resolving the deal by then. And ultimately on my side, I am stubbornly optimistic that a deal is within our reach - if both sides grasp the opportunity."
If they're wrong and no deal is reached by October, then there is talk of an emergency EU summit in November. The UK is due to leave the European Union on the March 29 next year.