Spanish families stranded in Ukraine with their surrogate babies
Comments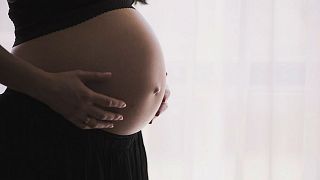 Dozens of Spanish families who have had children via surrogate mothers in Ukraine are being blocked from returning home, with the Spanish government citing issues of medical malpractice and human trafficking in the industry.
The Ministry of Foreign Affairs said in a statement on Wednesday that it will deal with around 30 families affected on a case-by-case basis, noting that it has "an obligation to preserve and protect the rights" of the women who carried and gave birth to the children.
It said the block on the families going home followed cases reported to the Spanish Embassy of "medical malpractice associated with assisted reproduction processes, as well as cases of trafficking of minors."
The ministry referred to a warning given by the Spanish Embassy in Kyiv several months ago, discouraging Spanish women from beginning surrogacy procedures in Ukraine.
Three of the Ukrainian agencies thought to be involved in the Spanish cases did not immediately respond to Euronews' requests for comment.
DNA tests
Many of the Spanish families have already been in Ukraine for several weeks, waiting to register their children and take them home.
However, under law, the paternity relationship needs to be proven before Spanish nationality can be given.
David Monje, manager of the surrogacy agency Go4Baby who is advising some of the affected families, told Euronews that these DNA tests were previously done at the Spanish consulate, but such procedures ended on July 5.
Cristina Álvarez, who had a baby girl via surrogacy earlier this summer, has now been in Ukraine for around a month.
She said several families were on Wednesday given dates for appointments with the Spanish consulate but stressed that she still had no idea what will happen at her November 13 meeting.
"They ask us to carry the documentation, but that doesn't mean DNA testing or anything," she said to Euronews.
Ukrainian nationality
Like other families, Álvarez is now trying to get her child out of limbo by registering her as a Ukrainian citizen.
"It is the last thing we want. But we have to move forward, which is what the government wants, to get rid of us," she said.
However, she said they would also continue to "demand our rights, which is that our children should be Spanish, which they are".
Monje said obtaining Ukrainian nationality is a "very slow process".
It "requires the registration of the child and parents in Ukraine, and all that takes a long time and not it's simple".
Why Ukraine?
Ukraine has become a major destination for families seeking surrogate pregnancies, due largely to its liberal laws.
The number of foreign couples heading to the eastern European country has increased in recent years, as other surrogacy hotspots, such as Thailand and India, have closed down the industry over reports of exploitation.
Significantly, the law in Ukraine states that the baby belongs to the "intended parents" and the surrogate mother has no parental rights from the moment of conception. It also does not place any limit on how much a surrogate can be paid.
In much of Europe, including Spain, surrogacy is banned, while other countries allow only altruistic arrangements.
The conflicting legislation and concerns over exploitation mean the issue with the Spanish families isn't the first to arise.
In 2011, a French couple were arrested trying to smuggle their 2-month-old twins out of Ukraine. They said they had acted out of despair because the French government, which doesn't recognise surrogacy, wouldn't issue their children with passports.
With no current legal way of getting their children out of Ukraine, parents like Álvarez are left to question the Spanish government's position.
"You may have your doubts, but you have been registering children in Ukraine without any problems, so why now? If they have questions, the best way to resolve them is to take care of the families and do the DNA tests," she said.