Seven years on, Syrian refugees face tough decisions in Lebanon
Comments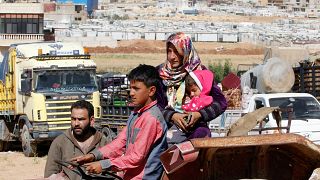 Copyright

REUTERS/Mohamed Azakir

-
It's been seven years since the Syrian Civil War broke out, sparked by the momentum of the Arab Spring. Thousands of Syrians fled the country every year, and the diaspora is all around the world. But while Europe argues over which countries should take in migrants, Lebanon has taken in the most Syrian refugees of any other country. 1.5 million Syrians live there in cities and makeshift camps, building a life that feels as much like home as possible.
The reception in Lebanon has been mixed. Most refugees say they don't feel like they're being rushed back home yet.
"As a human being, I feel for them," said Riyad Sawan, former deputy mayor of Saadnayel, Lebanon. "You see how they live, you feel their pain when you visit them. I am from this village and I share the village with them. So I always try to support them."
However, there are certain restrictions they must live under- Syrians aren't allowed to move freely around the country, they're banned from certain jobs, public parks, and local cemetaries sometimes refuse to bury Syrian bodies, citing lack of space. The idea of Syrians settling permanently in Lebanon is a difficult one for many Lebanese- the Lebanese civil war was caused in part by the settlement of Palestinian refugees in the country.
Those in Lebanon right now face yet another difficult choice- as Syrian President Bashar al-Assad retakes control of the country and the end of the war comes into sight, some refugees have decided to return, while others have nothing in the country to return to.
"I prefer to live in this tent rather than going back and living on sand," said Mariam Al Omar, a Syrian refugee living in a Lebanese camp. "We have someone there who photographed our house and there's nothing there... Just sand"
Still, the pull home is irrestible to some. Thousands have already made the journey back this year, from many neighbouring countries.
"I would like for my children's future to be in Syria because it's where we belong- it's our country," said another woman in the camp.