China to ensure gas supplies for this winter's smog fight -media
Comments
By Reuters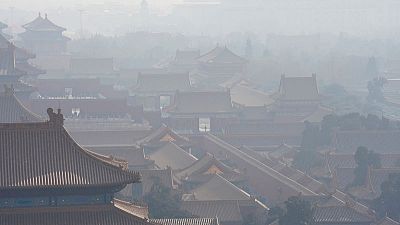 -
SHANGHAI (Reuters) – China will make sure it has enough natural gas before forcing more residents to stop using coal for heating this winter, state media said on Wednesday, to try to avoid a repeat of the shortages that hit parts of northern China last year.
To meet its tough air quality targets for 2017, China launched a campaign last October aimed at curbing industrial output, restricting traffic and cutting coal use in 28 northern cities known for their heavy smog.
But as authorities throughout the region rushed to convert coal-fired heating boilers to cleaner-burning but scarcer natural gas, some villages lacking supplies and infrastructure were left without heating during the freezing winter.
Officials were subsequently accused of adopting an overzealous "one size fits all" approach to battling smog, and the government promised to learn from its mistakes.
The Communist Party newspaper People's Daily cited China's Vice-Minister of Finance Liu Wei as saying that future attempts to convert coal-fired boilers to natural gas must secure a "matching supply source" before proceeding.
Cities must sign winter supply contracts before going ahead this year, and must also strictly control the construction of new industrial gas-consuming projects and improve storage facilities, the paper said, citing a recent cross-ministerial meeting to prepare for the coming winter's anti-smog efforts.
Around 20,000 sq km (7,700 sq miles) of territory north of the Yangtze river are covered by a state coal-fired urban heating system that is activated in mid-November and shut down in March.
By 2016, the system was burning an estimated 400 million tonnes of coal each winter, with only half of the total subject to emissions controls, making it one of the country's biggest sources of smog.
China has established a "pilot clean-heating city" scheme aimed at developing alternative heating methods throughout the north, with plans to introduce not only natural gas, but also electric, geothermal, biomass and nuclear heating systems.
But ensuring there are enough energy supplies will remain the priority for this year, the People's Daily cited Liu Baohua, vice-director of the National Energy Administration, as saying.
The paper said China's reliance on imported natural gas is expected to rise to 44 percent this year from 38 percent in 2017, putting supplies under even greater pressure.
(Reporting by David Stanway; Editing by Tom Hogue)