Watch: Hotel in London goes green
Comments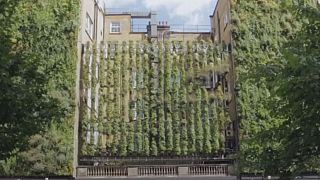 A hotel in London is literally going green.
The Rubens at the Palace hotel has built a "Living Wall" made of various plants with the aim of providing a habitat for animals, improving air quality as well as enhancing the building's insulation.
Buttercups, crocuses and even strawberries are among the 10,000 herbs growing over the 350-square-metre wall on the hotel's exterior.
Malcolm Hendry, the hotel's general manager commented on the benefits of the "Living Wall".
"The 'Living Wall' gives us the opportunity to support insects and wildlife, it helps us reduce energy consumption by keeping the building cooler in the summer and warmer in the winter. It helps reduce localised drainage and it helps us contribute to keeping a cleaner air for the local environment," he said.
The hotel is situated opposite the Royal Mews of Buckingham Palace, and the "Living Wall" is just one of the initiatives the hotel has made in its commitment to sustainable tourism.
The hotel aims to be plastic-free by 2022 and describes itself as the "greenest hotel in London," recycling corks, candles, soaps, and shampoos while using energy efficient light bulbs.
Energy is generated from solar panels on the roof, while guests have access to free bikes to reduce their carbon footprint while exploring England's capital city.
According to the United Nations World Tourism Organisation, the tourism sector contributed to 5% of man-made carbon dioxide emissions.