Fidelity fund votes backed Tesla, potential sign of more support
Comments
By Reuters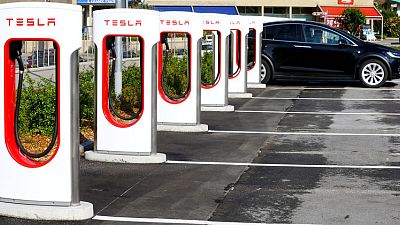 -
By Ross Kerber
BOSTON (Reuters) – Funds run by Fidelity Investments sided with Tesla Inc <TSLA.O> management on director votes and other controversial items this spring, filings showed on Thursday, which experts said could presage further support for the carmaker's CEO, Elon Musk, as he looks to take the company private.
Fidelity funds that are top Tesla holders including Blue Chip Growth Fund,<FBGKX.O> Growth Company Fund <FDGRX.O> and Contrafund <FCNTX.O> all voted as Tesla recommended at two shareholder meetings held in March and June, the filings showed.
At both meetings top proxy adviser Institutional Shareholder Services recommended more critical votes, citing concerns about Musk's pay and board independence, among other things. Fidelity's votes marked the second set of supportive ballots disclosed by a top investor in the carmaker so far this year.
A Fidelity spokeswoman said the Boston firm would not comment on what the votes might suggest about the firm's views on the go-private deal that Musk is trying to arrange. How much backing funds give Musk will determine how much money he will need to raise in his unprecedented bid to take the company private.
The positive votes by the Fidelity funds on the controversial election items could suggest their managers will be more likely to support Musk going forward, said Francis Byrd, a corporate governance consultant.
"You could presume they are sort of locked in," Byrd said, though he cautioned the funds would ultimate want to see the financials of any deal Musk puts forward.
A July 24 U.S. securities filing by Scotland's Baillie Gifford, Tesla's largest owner after Musk himself, also showed it backing Tesla across the board at both meetings. A Baillie Gifford representative declined to comment.
The special meeting in March was held to approve a new CEO compensation package potentially worth $2.6 billion for Musk. A filing showed the plan won support from about 81 percent of votes cast, or about 73 percent of votes cast excluding shares held by Musk or his brother, Kimbal Musk.
Proxy adviser Institutional Shareholder Services had recommended voting against the award as too rich. ISS had also recommended votes against two of three Tesla directors who stood for election at its regular meeting in June, citing concerns about their independence and seats on other boards.
ISS also recommended investors back shareholder proposals including one that would require an independent chairman. The directors each won at least 89 percent support, a filing showed, and the proposal for an independent chair was backed by only about 16 percent of votes present, a filing showed.
(Reporting by Ross Kerber; Editing by Frances Kerry)