England's Cipriani fined by Gloucester over nightclub incident
Comments
By Reuters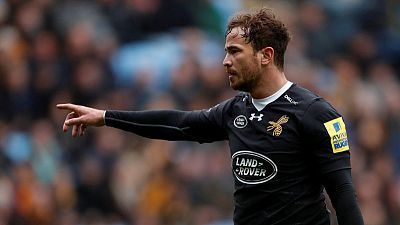 -
(Reuters) – England flyhalf Danny Cipriani was fined 2,000 pounds ($2,550.60) by his club Gloucester on Monday after an internal investigation into an incident during their pre-season tour of Jersey.
Cipriani was charged by the Rugby Football Union (RFU) on Friday for "conduct prejudicial to the interests of the game" following his conviction for common assault and resisting arrest.
The conviction was based on an incident at a nightclub in Jersey, which left a female police officer bruised and led to the player's arrest.
The altercation took place when Cipriani tried to carry drinks into the outdoor area of a bar, where he and his Gloucester team mates were having a barbecue following a pre-season match.
Cipriani said the bouncer did not allow him to take the drinks outside and started recording him with a camera attached to his tie, leading the England player to grab the device.
Police officers were called to the scene minutes later.
Gloucester Rugby said in a statement on Monday that as well as the fine Cipriani would undertake additional community service for what they called a "minor incident".
"Having reviewed all the facts and spoken to both Danny and (Gloucester scrum-half) Willi Heinz, who witnessed the events first hand, we are in agreement with the Magistrate in Jersey that this was a minor incident," a club spokesperson said.
"While Danny is very apologetic for his actions, we do not believe he is guilty of bringing the game into disrepute and he will continue to get our full support."
Gloucester objected to the RFU laying charges against their player before the club's internal investigation had finished.
($1 = 0.7841 pounds)
(Reporting by Simon Evans; Editing by Ken Ferris)