Italy determined to revoke motorway concession after bridge collapse
Comments
By Reuters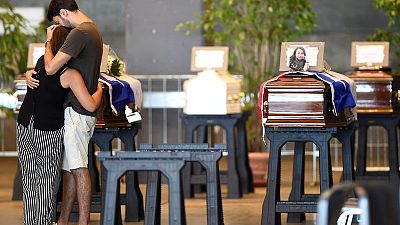 -
By Ilaria Polleschi
GENOA (Reuters) – Italy's populist ruling coalition showed a united front on Friday in its push to revoke concessions held by Autostrade per l'Italia to operate toll highways after a bridge it managed collapsed this week, killing at least 38 people.
On Thursday, some coalition members said that less drastic measures, such as a fine, may be considered, but a day later the leaders of both ruling parties vowed tougher action.
"They (newspapers) wrote the government is putting on the brakes," Luigi Di Maio, head of the anti-establishment 5-Star Movement and deputy prime minister, said on Facebook. "That's false. The government is accelerating and it will revoke the concessions."
Matteo Salvini, head of the far-right League party and also a deputy prime minister, later said there was "no division" in the government on the issue, but added that the procedure would take "weeks or months".
Shares in Atlantia , the parent company of Autostrade, plunged more than 30 percent after the bridge collapse in Genoa on Tuesday, but recovered slightly on Friday.
Atlantia is controlled by the holding company for the Benetton family, famous for its clothing empire.
A Genoa court will try to establish the exact cause of the bridge failure, but experts said problems with the concrete-encased cable stays were a possible culprit.
An engineering study commissioned by Autostrade last year warned about the condition of the stays, said Carmelo Gentile, the head of Milan's Polytechnic university who was on the team that carried it out.
Antonio Brencich, an engineering professor at Genoa University, said the bridge had been shown to be defective just two decades after it was opened in 1967. On Friday, he said the failure of a cable stay could have been behind the collapse.
"The rupture of a cable stay is a serious working hypothesis," Brencich said. "There are witnesses and videos that point in that direction."
Atlantia did not respond to a written request for comment and attempts to phone a company official were not successful.
Autostrade has said it monitored the bridge on a quarterly basis, as required by law, and carried out additional checks by hiring external experts. It had no immediate comment on Friday's reports about problems with the stays.
The Transport Ministry has given Autostrade 15 days to show it had met all its contractual obligations, and wants the company to rebuild the bridge at its own expense.
STATEFUNERAL
As politicians responded to public outrage over the tragedy, rescue workers used jackhammers and cranes to lift giant slabs of concrete from the riverbed beneath the fallen bridge, hoping to find survivors buried in the rubble.
More than 300 firefighters have been working non-stop since Tuesday, though experts say chances of finding survivors are now slim. The civil protection agency said on Friday that five people feared to be near the site of the disaster were still unaccounted for.
Vehicles on the highway that links Genoa to the French border west of the Mediterranean port city plummeted 50 metres (165 feet) when a 200-metre (660-foot) stretch of the viaduct collapsed.
Firefighters, who are using sniffer dogs as well as heavy machinery, have not yet reached all the cars.
"We are trying to find points where we can penetrate these incredibly heavy slabs. Then the earthmoving equipment moves in to create a passageway where the dogs can enter," firefighter Stefano Zanut said at the scene.
Rescuers are hoping the large chunks of debris may have created a "triangle of survival" when they fell, where someone could still be alive, he said.
A state funeral for many of the victims will be held on Saturday at Genoa's convention centre, led by the city's archbishop, Cardinal Angelo Bagnasco and attended by President Sergio Mattarella and Prime Minister Giuseppe Conte.
Twelve coffins have already been placed in a large hall, and family members visited them on Friday, sometimes kissing the caskets. One white coffin held the body of seven-year-old Samuele Robbiano, who died alongside his parents.
"It is something that has touched everyone because we all used the bridge and it could have happened to anyone," Bishop Nicolo Anselmi said after blessing the coffins.
Some families plan to boycott the event and hold their own private services, as a sign of protest against what they say was negligence that caused the bridge to collapse.
The funeral of four young men who were en route to a holiday together in France and Spain when the disaster struck was being held in Torre del Greco, near Naples, on Friday.
(Writing by Philip Pullella and Steve Scherer, additional reporting by Matteo Berlenga in Genoa, Stephen Jewkes and Valentina Za in Milan, Gavin Jones in Rome; Editing by Mark Heinrich and Alison Williams)