NASA launches daring solar probe mission to 'touch' the sun
Comments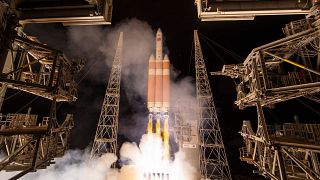 NASA has successfully launched its first mission to explore the Sun.
The car-sized spacecraft was successfully launched on board NASA's Delta IV Heavy rocket at 3:31 am local time (9:31 am CET).
The Parker Solar Probe, a €1.3 billion unmanned spacecraft aims to get closer to the centre of our solar system and is now the fastest-moving man made object in history.
The launch was originally set for Saturday morning, but was cancelled as a helium gas sensor t exceeded a launch limit on the Delta IV-Heavy rocket, according to United Launch Alliance.
The probe is intended to plunge into the Sun's mysterious atmosphere, known as the corona, coming within 6.16 million kilometres of its surface during a seven-year mission.
The corona gives rise to the solar wind, a continuous flow of charged particles that permeates the solar system.
Unpredictable solar winds cause disturbances in our planet's magnetic field and can play havoc with communications technology on Earth. The space agency hopes the findings will enable scientists to forecast changes in Earth's space environment.